We are independent jewelers and estate buyers whose stores are located on Florida's beautiful Treasure Coast. We have joined together to achieve maximum exposure for our fine quality custom, and unique estate jewelry via TreasureCoastJewelers.com. We BUY, SELL, and CONSIGN, fine jewelry, diamonds, gold, and platinum.
We maintain a large inventory of beautful antique and modern estate pieces of all types, and we collectively take great pride in the quality of the pieces we offer for sale.
Where we're located: Florida's famed Treasure Coast, with its sandy beaches and sparkling azure waters, has a history that dates back to the 1700's. The Treasure Coast, known for its billions of dollars in shipwrecked treasure, now has a mainland area which encompasses Palm Beach, Martin, St. Lucie and Indian River Counties. It spans over 3,600 square miles, has 51 municipalities and 1.4 million residents.
Some of the better known cities along Florida's Treasure Coast are; Boca Raton, Palm Beach, Stuart, Boynton Beach, Delray Beach, Port St. Lucie, Jensen Beach, Hobe Sound, Sewalls Point, Hutchinson Island, Port Salerno, Palm City, Jupiter Island, Tequesta, Fort Pierce and Vero Beach.
We conduct business on a personal and professional level, and we have earned an exceptional reputation for service, quality, and integrity. We guarantee the authenticity of our merchandise and we stand behind our representations. We invite you to talk to us about any of the items we offer for sale. Yes, we also sell to dealers.
In addition to our website, TreasureCoastJewelers.com we also display our fine Estate and Custom Jewelry collection in the showroom located at 41 SW Osceola Street in Stuart, FL.
The Stuart showroom is home to a FULL SERVICE JEWELER.
WE'VE MOVED!


Treasure Coast Jewelers is delighted to have been invited to display our Estate Jewelry collection alongside prestigious Eric Michaels Fine Jewelry

Our new location
41 SW Osceola Street
Stuart, FL 34994

HOURS During Season
Monday: 11:00 - 5:00
Tues - Thurs: 11:00 - 6:00
Fri - Sat: 11:00 - 7:00
Sunday: Closed



Consignments
by Appointment

Call us Anytime:
772-219-0457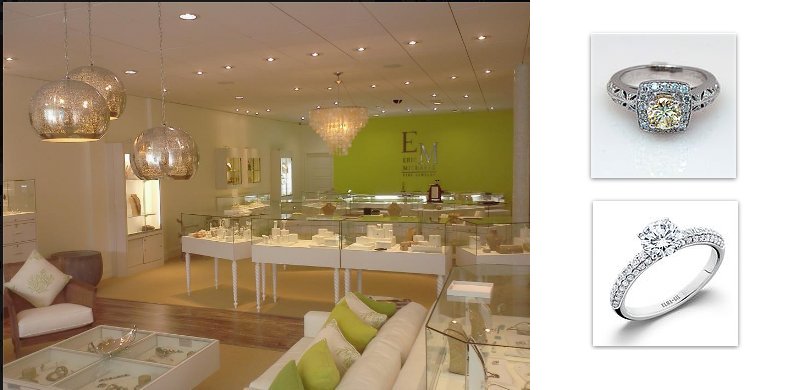 We sincerely hope you'll enjoy the exquisite treasures we've discovered for you here on Florida's Treasure Coast, and we invite you to visit us often here at TreasureCoastJewelers.com, our online showroom, which is pleased to welcome customers year round, 7 days a week.
Along with our display of fine Estate Jewelry, you'll also find antique, as well as custom and contemporary jewelry.

The Stuart, Florida showroom offers the convenience of watch repair, battery replacement, and Custom jewelry design capabilties . Layaway purchases are available and jewelry trade-ins are welcomed.

Jewelry featured on the TreasureCoastJewelers.com website is personally selected by Cynthia Gurin of The Summerland Group, Inc*.

Summerland is one of the sponsors of TreasureCoast Jewelers. Cynthia Gurin has bought and sold fine estate jewelry for better than thirty years.
You are invited to stop by the showroom to purchase jewelry, or CALL to schedule an appointment to meet personally with Cynthia Gurin . You may also CONTACT HER DIRECTLY via email.
Reach her by phone at either of the following numbers; (772) 219-0457 any day, or dial (561)386-1427 (cellular phone) for answers to any question regarding jewelry displayed on this web site. Email is monitored 7 days a week.

OUR CRITERIA FOR JEWELRY SELECTION:

In the selection of jewelry displayed on this site we first rate the "Wow" factor. It must be something each of us would enjoy owning and wearing ourselves, jewelry so attractive people simply can't help but comment on it. And just like you, when we select jewelry, we even take into consideration the style and color of clothing the jewelry could be worn with. After all, the more outfits a particular piece of fine jewelry compliments, the greater its overall appeal.
We next examine the intrinsic value of the piece. For example, we evaluate the quality of the gemstones, and determine whether the piece is solid gold or platinum, vs. gold plating, or gold filled. Gemstones are evaluated to identify natural vs. man made stones, and precious color vs. semi precious color.
We'll next evaluate the condition of the piece: Are the stones chipped? Is the jewelry damaged or are parts missing?
We look at construction, weight, finish, and design, as well as the history of the piece.

Are the prongs heavy enough to hold a stone for a reasonable length of time? Is the body of the piece substantial enough to sustain considerable wear and tear over the years? Is the design of the jewelry not only appealing, but is it in proportion to the gemstones it features?
Is an older estate piece verifiably identifiable as being from a specific period?
We feature jewelry which will make your shopping experience here a pleasure.

*Summerland's other divisions include the popular Home Office Mall, as well as Bedtime-Story™, the number one children's story site on the web, The OFFICEŽ, award-winning, wired and mobile computer and media furnishings, (twice awarded International Grand Prize at the World's Trade Fair), and Summerlift™, motorized lifts for Pop-Up TV™.