Genevieve Norma Kittendorf b. August 10, 1907 Chicago, Cook County, Illinois, USA, She died November 12, 1993, Davenport, Scott County, Iowa, USA Burial: November 1993, Riverside Cemetery, Prophetstown, Illinois. Photos at right taken August 24, 1929 at her sister Rhea's wedding.
OBITUARY NOTICE: 1993 - Genevieve K. (Kittendorf) Swanson
Submitted by Melva L. Taylor The Daily Gazette, Sterling-Rock Falls, Illinois
November 15, 1993 - Monday
GENEVIEVE K. (Kittendorf) SWANSON
Prophetstown: - GENEVIEVE K. (Kittendorf) SWANSON - 86, of 612 Grove St., Prophetstown, died Nov. 14, 1993 at Crest Health Care Center, Davenport, Iowa. Funeral services will be at 11 a.m. Wednesday at the First Congregation Church, Prophetstown. Burial will be at Riverside Cemetery, Prophetstown. Visitation will be from 6-8 p.m. Tuesday at the Gardner Funeral Home, Prophetstown. A memorial has been established to First Congregational Church or Eastern Star Masonic Order.
Mrs. Swanson was born Aug. 10, 1907 in Chicago, the daughter of Frank and Ellen (Erickson) Kittendorf. She was educated in Chicago schools and attended Business College in Chicago. She married Carl Nord Swanson May 4, 1934 at South Shore Community Congregational Church, Chicago. She was employed as bookkeeper for Charles Ringer Co., Kroger Employees Credit Union, and as investigator for the Better Business Bureau, Chicago. She retired in 1971 at which time she moved to Prophetstown. She was a member of South Shore Community Congregational Church and served as chairman of the Board of Christian Education, Church School Superintendent, and chairman of the Women's Fellowship, all of Chicago; past president of the Women's Club, Chicago; past member of South Side Swedish Club, and past member of Chicago Missionary Society; was presently a member of Miverva Chapter, O.E.S., Prophetstown; First Congregational Church, and the Martha Circle of the church. Survivors include her husband; two daughters, Karla Roffee of Phoenix, Ariz., and Norma Wren of Riverdale, Iowa; two sons, Warren Swanson of Omaha, Neb., and Wayne Swanson of Iowa City, Iowa; 20 grandchildren; 23 great grandchildren. She was preceded in death by her parents, two daughters, one brother, and one sister.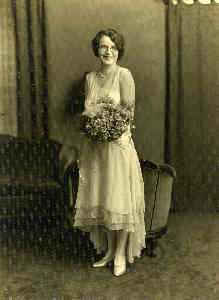 Genevieve married Carl Nord Swanson, son of Carl Johan Albert Swanson and Emma Louise Nord, on May 04, 1934 in South Shore Community Church, Chicago, Cook County, Illinois, USA
05/22/11 Attention: Swanson family members
Diane Swanson Sheets, middle daughter of George A. Swanson (born 25 Dec 1908), who was brother of Carl Nord Swanson wrote us. Carl was married to Genevieve Kittendorf. She is interested in communicating with the children of Carl/Genevieve - Karla Jane or Norma Swanson, her cousins, with whom she and her sisters have lost contact. contact Diane at "Diane Sheets" <Redbari1@aol.com>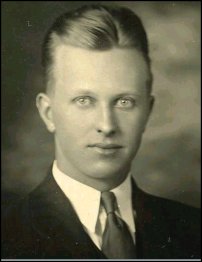 Children of Genevieve Norma Kittendorf and Carl Nord Swanson are:
1. +Karla Jane Swanson -married Barton Wesley Roffee, son of Barton Hunter Roffee and Marion Lucille O'Donnell.

Children of Karla Jane Swanson and Barton Wesley Roffee are:
--------- 1. +Barton Warren Roffee.He married married Kathleen Susan Shay.
------Children of Barton Warren Roffee and Kathleen Susan Shay are:
---------------------1. Erika Nicole Roffee.
---------------------2. Julia Roffee.

--------- 2. +Daniel Wesley Roffee.

2. +Norma Genevieve Swanson married Louis Christopher Wren, son of James Oren Wren and Gladys Winona Parlier on December 28, 1961.

Children of Norma Genevieve Swanson and Louis Christopher Wren are:
---------1. Christine Greta Wren married (1) Steven Duane Greim, son of Roger Duane Greim and Janet Ray Benson. She married (2) Robert William Dean, Jr., son of Robert William Dean, Sr. and Lula Joanne Gehman. The entire Kittendorf family is grateful to Christine Wren for her exhaustive research and an absolute wealth of old family photos which helped make the Kittendorf Family website possible. Christine's own Wren Family website may be viewed at:
http://familytreemaker.genealogy.com/users/w/r/e/Christine-G-Wren/index.html
---------2. +Christopher Carl Wren.
---------3. +Heather Jean Wren.
---------4. +Angela Jeanette Smith..

3. +Warren Charles Swanson married (1) Margaret Reeves, daughter of Mr.and Mrs. Marion Leo Reeves. He married (2) Charmaine. Children of Warren Charles Swanson and Margaret Reeves are:
---------1. Patricia Swanson.
---------2. Charlie Swanson.
Children of Warren Charles Swanson and Charmaine are:
---------3. Eric Swanson.
---------4. Michael Swanson.
---------5. +Timothy Swanson.
There are also ten children with the surname of Pizinger in this family.

4. Ellen Louise Swanson, infant. b. August 19, 1947, Chicago, Cook County, Illinois, USA, d. February 01, 1949, Chicago, Cook County, Illinois, USA. Buried at Cedar Park Cemetery, Calumet City, Illinois.

5. Wayne Kittendorf Swanson married Kristen Knepper, daughter of Eugene Knepper and LaNelle Strong.

6. Linnea Christine Swanson, infant. b. June 02, 1955, Chicago, Cook County, Illinois, USA, d. October 01, 1957, Chicago, Cook County, Illinois, USA.
These are the children of Genevieve Kittendorf Swanson., grandchildren of Frank Theodore Kittendorf, great-grandchildren of Olaf Kittendorff, great-great grandchildren of Johann Kittendorff, great-great-great grandchildren of Johan Rudolf Martin Kittendorff who was born in Stralsund, Germany, north of the village of Kittendorf, in the year 1790.

| | |
| --- | --- |
| 1. Karla Jane Swanson | |
| 2. Norma Genevieve Swanson | |
| 3. Warren Charles Swanson | . |
| 4. Ellen Louise Swanson, infant. | NO IMAGE AVAILABLE |
| 5. Wayne Kittendorf Swanson | |
| 6. Linnea Christine Swanson, infant | NO IMAGE AVAILABLE |