vonKittendorf.com
THE KITTENDORF FAMILY MEMORY PROJECT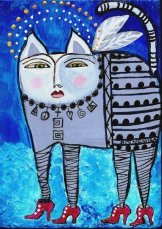 INTERESTING TALES

SHARE YOUR MEMORIES

Examples of past and current family history and bits of human interest stories you might consider sharing:
LEARNING TO TALK:
Del Sr. used to love to reminisce, telling the story that his youngest son Craig didn't actually speak for a very long time.
The little boy could speak perfectly well, of course. Apparently he just didn't see any particular need to.
Until somebody annoyed him and he finally had something to say, that is.
Do you remember the circumstances? Do you remember how old Craig was, what it was he said, and to whom?
Write the story down and share it, won't you?.
PLANES, TRAINS, AND LOVE AT FIRST SIGHT. OR NOT.
Diane has often mentioned that when she first met her future husband in college they didn't even much like each other.
Then something clicked, and they've been happily married nigh onto forever. Over the years the couple have shared an interest in Civil Air Patrol, and then in the National Railway Historic Society. What was it that sparked that interest?
GOLDEN GLOVES, FOOTBALL, JUDO AND THE VIOLIN.
Richard excelled in all types of sports and won a number of awards. Do you know what they are?
Did you also know that he played the violin and was first chair?
With a degree in Architectural Engineering, Richard is also a State Licensed General Contractor. But did you know that when he first began a career in architecture, he was mentored by Lester Avery, A.I.A., who in turn had been mentored by the world reknowned architect, Frank Lloyd Wright?.
TRUE GRIT.
Terry and Louise were living with Richard and Cynthia in the 1970's while their new home was being built. During the moving of some boxes, a loaded gun hit the floor, accidentally discharging, shooting Terry in the upper thigh, narrowly missing a major artery (and other valuable equipment).
Terry maintained his sense of humor throughout. He lay on the floor in the library, awaiting the arrival of the ambulance. Cynthia, totally rattled, tore into room with a blanket, and accidentally covered the wrong end of her badly wounded brother-in-law. He sighed, calmly un-covered his head and drolled, "Uh...Cynthia....I'm not dead yet". Later..... as he lay on the gurney in the emergency room, still bleeding, his face ashen white, and in horrible pain, he made the following observation.

Terry said dryly----
"You know how in the movies, John Wayne takes a bullet... then climbs up on his horse ....and rides off into the sunset.... like it was nothing?.....well... I can tell you.... that .... is ...BULL-SHEEE-YITTT!!..."

Now there's a scene that sticks in your memory.
A FISH STORY:
Del Sr. and Dorothy used to enjoy fishing off a pier when the children were small. Do you remember what precautions they took to prevent their youngest from falling off the pier, and what happened if he did go over the side?
A LOVE OF DOLLS:
Did you remember that Dorothy Tilley Kittendorf loved dolls and was considering going into the doll repair business under the name "Dot's _______"?
THE DOOR WAS ALWAYS OPEN:
A youngster by the name of Walter Tucker eventually came to live with the Kittendorf family. He was introduced as being a foster brother. Was Walter the son of family friends, or was he the son of relatives?
UNDER THE SEA:
Do you remember what Del Sr. invented when he was working at the Deauville Hotel?
1953
What do you remember about your Kittendorf grandparents?
They lived in Miami. Both of them seem to have died the same year, in 1953.
Their ashes were scattered at sea.
TIME TO RETIRE:
What about Dorothy Tilley's father, William?. Didn't Del and Diane have a small painting of him hanging in the foyer of their Orlando home?. Did you know he was an artist? Did you know Dorothy as a toddler was his model for the popular Fisk Tire "Time To Retire" ad campaign?. Although there were several versions of the popular Fisk Tire "Time To Retire" ad campaign, the one which everyone remembers, pictured Dorothy Helen Tilley, daughter of the artist William Tilley. Click on the "Time To Retire" link to view a copy of that ad. Do you have photos or more information on the Tilley branch of the family?
THE VIOLINIST
Craig Xandor Kittendorf has an unusual middle name, a tribute to a relative Xandor Luce who was a talented violinist.What can you tell us about that individual?
IN GOOD HANDS: The question of why we chose to use the domain name vonKittendorf.com for the Memory Project (instead of simply going with Kittendorf.com) has come up. Simple. It's because Kittendorf.com wasn't available. Not to worry, though, that domain name, albeit not active, is in very good hands. Kittendorf.com was purchased back in 1999 by Wren Enterprises. (That's Wren as in Christopher Wren, grandson of Genevieve Norma Kittendorf. Genevieve was the sister of Delmar Frank Kittendorf, Sr.) Christopher's sister is Christine Wren Dean. The entire Kittendorf family is grateful to Christine Wren for her exhaustive research and an absolute wealth of old family photos which helped make the Kittendorf Family Memory Project website possible. Christine's own Wren Family website may be viewed at:
http://familytreemaker.genealogy.com/users/w/r/e/Christine-G-Wren/index.html

WHAT'S IN A NAME:
Did you know how Brandon and Shane (and Brandon's daughter Tatyanna) all came to be named von Kittendorf?
When early genealogical research was underway in the early 1970's, Del Sr. mentioned to Richard and Cynthia that the family's last name had originally been von Kittendorff. Apparantly that was information that had been passed down to him from an older relative.

At any rate, the idea of restoring the original name was appealing. But only one baby was expected, it was still early, and only one first name had been chosen.
But a full month before her due date, a quick rush to the hospital ensued, and thus it was on the delivery table that Cynthia found out that she was delivering twins. Unfortunately, both boys were experiencing severe distress, fighting for their very lives. Shane developed pneumonia, Brandon simply stopped breathing. A team of two doctors and two nurses had to be rushed north from a famed neonatal unit in a distant Miami hospital, and by the time it was all over, the twins ended up spending a full month in intensive care in a total of three separate hospitals.

All's well that ends well, the boys recovered, but in all the confusion, (and amidst the abject terror) the family related middle names Cynthia had finally chosen for the boys, Shane Grey, Brandon Prentice, were never listed on the hospital forms. The "von" from "von Kittendorf" was instead listed as Von, in the space marked for a middle name. When Cynthia and Richard divorced, Cynthia changed her name from Kittendorf to von Kittendorf, to make her name the same as her son's names. Once they were grown and married, one of the twins, Brandon with his wife Angie, then bequeathed the name "Von" to their own little girl, Tatyanna von Kittendorf. So that's how it came about that the prefix "von" was re-attached to Kittendorf.


We know you have stories too.


Just search your memories.
Whatever story, whatever occasion, whatever memory (or whatever correction) comes to mind that you'd like to share, please just jot it down and send it to us.
This is an ongoing project, so EMAIL your notes anytime, using the subject line KITTENDORF MEMORY PROJECT
EXPLORE FAMILY HISTORY

ABOUT THE KITTENDORF MEMORY PROJECT