Paintings, Prints & Antique Posters
FEATURED ARTWORK
Click on name to view artwork by that artist

A.E. "Bean" Backus - popularly known as the Dean of Florida landscape painters and original mentor to "The Highwaymen".

Mahlon A. Cline - Art Director, Designer, Artist, Educator, a graduate of Pratt Institute, the late Mahlon Cline of Stuart, Florida worked in oil, watercolor and collage. his landscapes, seascapes and floral paintings have an individualistic style with traditional and impressionistic qualities. Sotheby's is believed to be planning an auction featuring his fine works.
The Highwaymen - In 1995, art critic Jim Fitch in an article for Antiques & Art Around Florida (Winter/Spring 1995 issue) bestowed the colorful name "The Highwaymen" on a group of itinerent black artists who, as early as 1955, had begun to paint scenes of the East coast of Florida. He chose the name "The Highwaymen" for the artists, because their marketing and sales strategy consisted of traveling the highways and byways of central Florida peddling their paintings out of the back of their cars. The paintings, particularly earlier works, have become highly collectible.
Michael Hoffman - Named International Billfish Artist of the Year. Hoffman's vibrant acrylics are collected by art connoisseurs, sports fishermen and environmentalists alike, and offer magnificent underwater perspectives, often capturing a shimmering glimpse of the living jewels found in the silent waters off Florida's famed Treasure Coast.
Jules Olitski honored in the art history texts as a central figure in the development of abstract and color field painting, is considered to be one of the greatest living painters.

Antique Movie Posters: Click here to go to the Posters section

MORE PAINTINGS ARE DISPLAYED BELOW:


---
Click on any image to enlarge


Above: Museum quality oil painting, approx. 53" x 60". Scene is bucolic countryside, castle in ruins, village in far hills off to right, village and dog lower left, Christie's identifies this painting as 16th century, difficult to ascertain signature, heavily carved gilt frame.
---
---


Oil painting of summer sailboats by Baricci SOLD

Oil painting of fishermen pulling their nets in the moonlight

Oil painting, still life, flowers, signed Scharff. $295.

Oil painting, landscape, signed Dahlgreen, 1918.

Unique painting of Abraham Lincoln, under glass. Signed with painted dedication by C.A. White, 1910. Smaller dedication inscription painting of medal, formerly attached to the back of Lincoln portrait has been temporarily moved to the front of this item for better visibility. SOLD

Oil painting, landscape, riders pausing on horseback, Gossip, J.Barker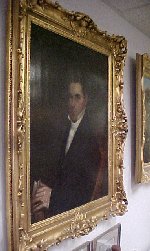 Oil painting, portrait of an extremely handsome young barrister. $3500.

Oil painting, vibrant still life, flowers. F. Fehnart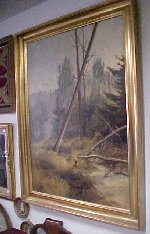 Oil painting, landscape, pheasant in foreground. C. Hoyeur

30" x 40" oil painting of Church of San Francisco, Guanajito, Mexico, by Fil Mottola. Signed Mottola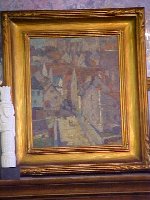 Oil painting on wood, village scene. signed Harry M. Lachman

Watercolor under glass, thatched roof cottage.
---
Artwork: Prints & Paintings, all media, from 15th century to contemporary
Fine Porcelain & China (Dishes, Platters, Vases, Bowls, cups/saucers, accent pieces, delicate boxes, etc.)
Pottery
Statuary, Figurines (including carved Jade, carved Soapstone,etc. Hummel, Royal Doulton, etc.)
Glassware & Crystal (including Vases, etc.)
Dolls & Bears
Lamps, Chandeliers, Sconces, etc.
Furniture, all types
Books
Collectibles - Miscellaneous (ships, trains, old photographs, parasols, toys, medals, etc.etc.)
Jewelry Estate Jewelry, Vintage, Antique, & Contemporary