Bearonica's Secret
One of a Kind Girl Bears in Fluffy Stuff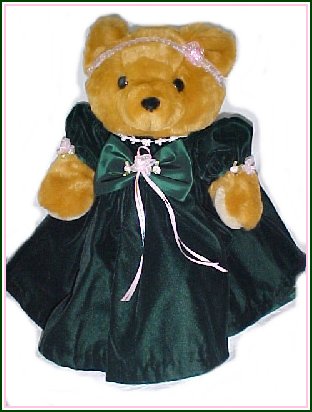 Bearonica wears a lovely designer party dress.
Select her gown according to the event she'll be attending.
Accessories include color coordinated headband, & personalized jewelry.
Bearonica's gowns are featured in fine department stores and upscale boutiques.
SAMPLE
Special Occasion: Tea Party!
Bearonica can arrive wearing this.....Romantic long flowing gown in lavender and white ruffled lace. Wide, lace trimmed collar, puff and ruffled lavender sleeves. More tea and cookies, anyone? Color coordinated headband and personalized jewelry are included. We have MORE wonderful selections.
Bearonica. AG's sister.
The prettiest member of the AG Bear talking teddy bear family.
$65. - $110.
Assorted Dress styles and colors available.
Above: Green velvet designer dress by BonnieJean
Questions?: AGBear@the-office.com
or call us at 772-219-0457 or 561-386-1427
We can arrange for Bearonica to arrive directly at the home of your recipient .
You are welcome to dictate a personalized gift note to arrive with her. AG Bear story CD is included.
Welcome to the Official A.G. Bear website
Read About: The Worldwide Search for A.G. ------ Read The Story: The Adventures of A.G. Bear
PURCHASE: Invite A.G. to YOUR House ------ Medicare for ElderBears: First Aid
BearlyDressed: Attire for the Well Dressed Teddy Bear - ----- Bearonica's Secret: Fluffy Stuff
Links to A.G. Fan Clubs

Contact AG Bear : AGBear@the-office.com
This is www.AGBear.com