SUMMERLIFT OVERVIEW:

Used in Schools

Homes, Offices,
and Industry

We offer multiple lift styles
The following incorporates a series of links intended to introduce Summerlift's models.


Simply "click" on any blue link to view detailed information.

Here's the Summerlift story - -

You will see on-page links. Please start with the "products and applications".

Summerlift PRICING is online.

Summerlift CLmodel Pricing is online too.
The Lift Basics page introduces how our lifts are installed and operated.
It describes our platform lift. Some excerpts from its manual describe how Summerlift is installed and operated.
Pop-Up TV units show some of the many configurations that utilize either the Summerlift platform lift or the CL (cable lift) models.We've included a summary of TV sizes too. The standard Summerlift is appropriate for TVs up to 27". Larger TVs and plasma models are lifted with the cable lift.
Here's the Cable Lift page (CL-1).

And this next page contains information on the new CL-1S Single and Dual Belt models

(For a close up of the furniture photo at right, click HERE.)

(For a much LARGER close up of the furniture photo, click HERE.)
The CL lift handles an extreme range of sizes and weights.
Here's some more detail. Especially take a look at our Pulley Basics page. It shows how to design your lifting layout.

Just like the standard Summerlift, the CL series lifts arrive complete and ready to use.

CL-1 lifts are complete with manual key-lock switch. pulleys, turnbuckles, cable, hardware, magnetic upper and lower limit switches CL-1 lift drive units are fabricated of 316L low-carbon, austenitic, Stainless Steel with MIL-W-83420, Composition B, Corrosion Resistant Stainless Steel cable with Nylon jacket.

Pulleys are sealed, have precision steel ball bearings with case-hardened steel races, light lube, and machined raceways.

For Plasma TVs, cabling is straightforward: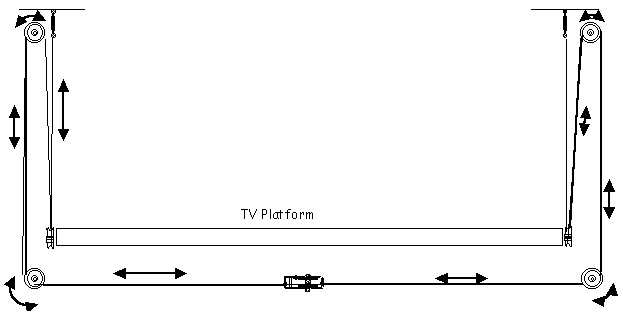 | | |
| --- | --- |
| Click here to view one such CASE STUDY for a marine application . | |
Please contact us at any time at summerlift@the-office.com
For direct contact with Bob Gurin (our technical guru), email him in care of samcat@bellsouth.net.
Bob is using the email address for SamCat.
Here's SamCat from the Bedtime Story (Starship Treehouse) website.
Sam is the official spokescat for Summerlift.

SamCat stars in several adventures on our non-commercial Bedtime Story web site. (Bedtime-Story was named best childrens story site on the Web). Sam got his own email address as a result of the fan mail he receives from kids 'round the world, but he agreed to let Bob use that address as well.
We're here to help. If you provide design intent, TV or monitor size etc., we can provide some detailed design assistance and, we have experts that can answer just about any question you may have.
Regards,
Summerland
P.S.....have you seen this bear?
| | |
| --- | --- |
| PHOTO AT RIGHT: You guessed it, this SamCat's buddy, A.G.Bear, the official spokesbear for Summerlift. A.G. is quite famous in his own right, and is as popular with adults as he is with kids. Click on the photo and we'll show you. | |
We manufacture superior lift products.
We understand lifting and lowering. Tell us your requirements.
CLICK ON ANY SECTION OF THE SITE NAVIGATION BAR BELOW
With patented Summerlift™, Designers, Engineers, Architects, Furniture Builders, Fixture Manufacturers and Ergonomists now have significantly superior lift mechanisms to raise, lower, conceal, and infinitely adjust the viewing height of computers, lecterns, audio/visual equipment, TV's including plasma TV's, and more*. Superior in performance and ease of installation to scissors and rack-pinion lifts, the patented, low voltage Summerlift™ is self-contained, practical, reliable, dependable, Quiet and reasonably priced. Other products; concealed Lift & Roll™ for fine furnishings, etc. Summerlift™ product design team includes aerospace, automotive, and NASA mechanical, electrical and systems engineers, woodworking craftspeople, metal fabrication, material experts, and motor specialists.

*Special configurations available (
up to 8' length lift platforms & 1,600 # load
).