WE BUILT THE AWARD-WINNING LIFT MECHANISMS.
YOUR CUSTOM CABINET SHOP
CAN TAKE IT FROM THERE.
You make it beautiful. We'll make it work.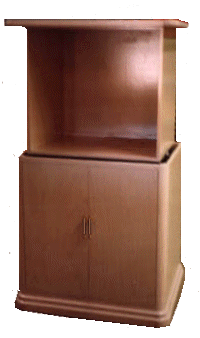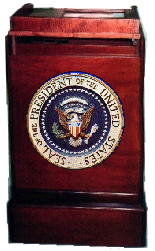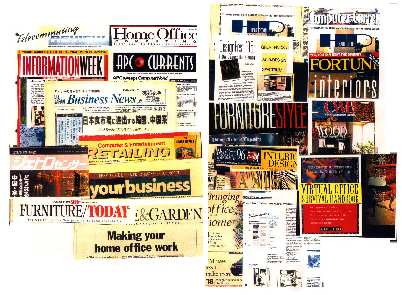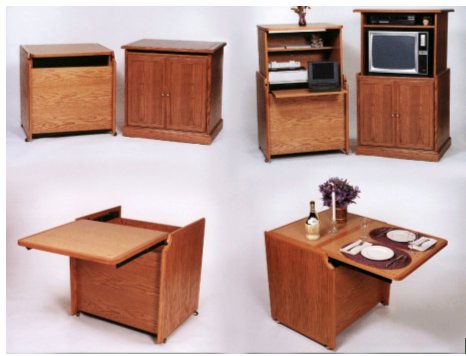 .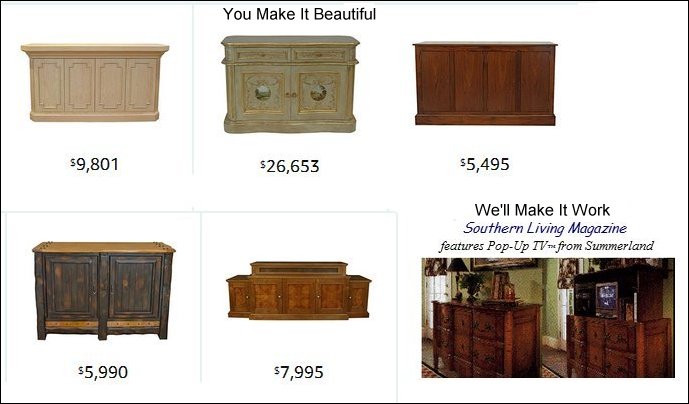 STANDARD Summerlift™ Lift Capacity: 200# operating load
(standard configuration)
Special purpose lifts to 750#
Travel Rate: 1.5 feet/second @ 80# load
Available: Special purpose lifts above 750#


Battery Life:
Normal replacement cycle 5 years
Battery 12 v 4.5 A

Automatic Battery Charger: Included
(requires 110v connection)
FRIWO auto regulated charger

Dimensions:
Summerlift™ is self-contained. All components are contained within its 5 ½" height powder-coated, heavy weight sheet metal lift platform. 26 1/8 " in length, 20" in width, the lift platform upper surface holds computer monitors and CPU, or television.

Warranty: 10,000 cycles

Single Page Printable Product Sheet:


Design & Engineering assistance
View: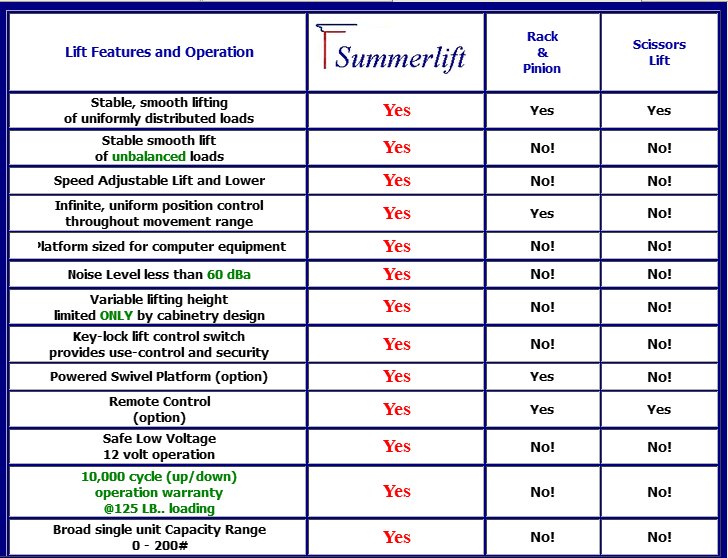 Individual UNIT Quantity

Summerlift™ Unit Price
Standard Model - In Stock
Ships in 4 business days
Manufacturers Suggested Retail: $1331.70 ea.



Summerlift™-R
Unit Price
Standard Model
WITH Remote control
JIT Mfg. In Stock
Ships in 4 business days

OEM PRICING
to pre-qualified dealers
1 to 8 units
(24 Units per pallet)

$859.07 ea

SALE - $795ea
2 @ $1500.


ADD $345.85


9 to 16 units

$794.26 ea

ADD $345.85

17 to 24 units

$728.71

ADD $345.85

FIRST CALCULATE SHIPPING COST:

click this button

HERE ARE THE PACKAGING STATISTICS:
Ship Weight 35 lbs
Carton : 28" x 24" x 6"

Ships F.O.B. from ZIP 34997
We understand lifting and lowering
From the creators of Award-Winning The OFFICE™
Summerlift products have been awarded
International Grand Prize at the World's Trade Fair, TWICE In 3 Years.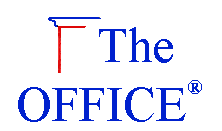 Contact us:
Summerlift, The Office, Lift & Roll and Pop-Up TV are products of
The Summerland Group
Copyright 1996-2020