LOOKING FOR SOMETHING SPECTACULAR?
Now's your chance.

From An ESTATE On The Treasure Coast of Florida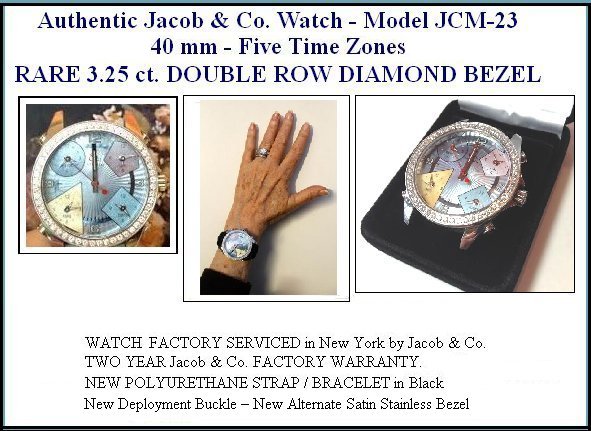 Authentic Jacob & Co. Watch - Model JCM-23
40 mm - Five Time Zones - UNISEX
RARE 3.25 ct. DOUBLE ROW DIAMOND BEZEL
Technical Details:
BRAND: Jacob & Co. GUARANTEED ORIGINAL
MODEL: Five Time Zones Diamond Watch
REFERENCE: JCM-23
SERIAL NUMBER:: 824*
DATE: 2004
GENDER: UNISEX
MOVEMENT: Battery operated Quartz
CASE MATERIAL: Stainless Steel
CASE SHAPE: Round
CASE SIZE: 40mm
BEZEL: TWO BEZELS, Jacob & Co. Stainless Steel and Diamond Bezel. PLUS Polished Stainless Steel Bezel
Jacob & Co. advises that this RARE DIAMOND BEZEL (which ONLY fits the JCM 40mm models)
contains approx. 3.25 carats, in a DOUBLE ROW OF DIAMONDS.
The Jacob & Co. diamond bezel in this watch contains a total of 124 full cut, eye-clean, top white diamonds.
(There are 52 diamonds around the top of the bezel, and another 72 diamonds around the edge)
DIAL / FEATURES: Multicolor, Five Time Zones
HANDS: Luminous
STRAP / BRACELET: Rubber, polyurethane, 3 piece Deployment Clasp: 3 Hallmarked: Jacob&Co.
CLASP MATERIAL: Steel
COMPANY HISTORY: Jacob & Co was founded in 1986. Its flagship boutique and corporate headquarters are located in Manhattan, New York City. Jacob & Co. specializes in VERY high end jewelry and it is also known for a number of signature watch styles, such as the "Five Time Zone Watch," (offered here) which it debuted in 2002. Inspired by the jet-set lifestyle of many of its clients, the timepiece features four fixed time zonesóNew York, LA, Tokyo and Parisówith the fifth dial set to the location of the wearer.
THIS JCM-23 has a rare DOUBLE ROW diamond bezel containing approx. 3.25 carats of very fine VS, F-G-H diamonds.
The diamond bezel has designed by Jacob & Co. so that it can be easily removed for periodic diamond cleaning or replaced with the polished stainless bezel (also included in your purchase).

WATCH CONDITION: LIKE NEW CONDITION. ALL MOVEMENTS HAVE BEEN CLEANED
AND FULLY SERVICED in New York by Jacob & Co.
WATCH HAS a TWO YEAR Jacob & Co. FACTORY WARRANTY.
The black band, deployment buckle and second bezel in polished stainless steel are also ALL brand new.



$4150 or best offer


Fine Quality Estate - Consignment Item
Any dark sections in photo are camera reflections only.