ESTATE
Antique Edwardian / Belle Epoque Era, Platinum and Diamonds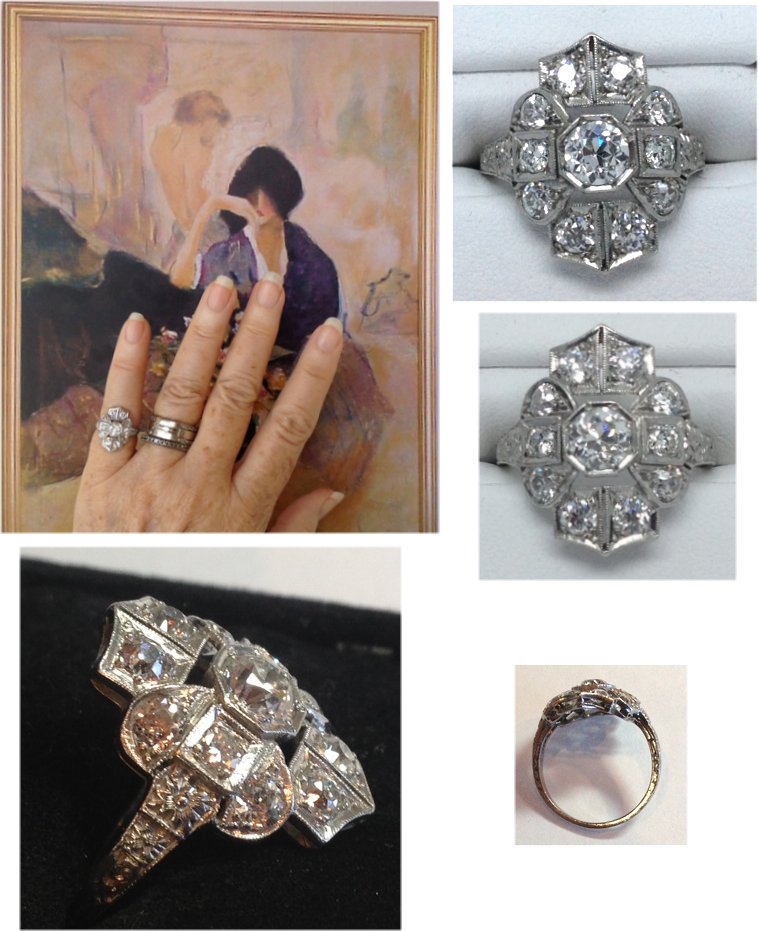 Antique. Exquisite Platinum Filigree, and Old Mine Cut Diamonds.
This ring is from the Edwardian / Belle Epoque Period
Note the delicate floral garlands and finely millgrained edging.

These are antique, Old Mine Cut diamonds, judged to have VS Clarity, and Top White E,F,G color.
Measured as set, total diamond weight is estimated at approximately 1.50 carats.
The center diamond is estimated to weigh approximately one half carat.
North/South orientation measurement is approx. 19mm in length.

The mounting is Platinum, 10% Iridium. Ring weight is 4.39 grams.
The current ring size is 5. Yes, it can be resized prior to shipping. Request quote.

This ring has a low, smooth, profile, and as such would be
Ideal for someone in the medical profession who uses protective gloves
which are often accidentally torn by traditional higher profile prong type diamond mountings.

ABOUT THE JEWELRY PERIOD FOR THIS RING.

EDWARDIAN (1890-1920) Belle Epoque is another name for the period during the reign of Edward VII. The Belle Epoque means "Beautiful Time" in French. Edward VII of England reigned from 1901-1910. By the time Queen Victoria's son finally ascended to the throne, Edward and his wife, Alexandra, had already had an influence on jewelry. This period was characterized by delicate filigree in white gold and platinum, with diamonds and pearls predominating, and colored stones used less frequently, producing a light, monochromatic look. Delicate bows, swags, and garland effects were used in necklaces and brooches. Both dog collars (large, ornate chokers), and long fringed necklaces often of seed pearls, were also "in", popularized by the graceful, long-necked Queen Alexandra. This period witnessed the rise of an incredibly wealthy class who wore fine jewelry. It was distinctly different from Victorian. The color of gold changed from yellow to white, and platinum was introduced. Craftsmen designed filigree rings, pins, and bracelets -- with a lacy, intricate look. Edwardian motifs included garlands, bows, tassels, bar pins, tiaras, lavalieres, sautoirs and multiple strands of seed pearls in choker length called dog collars. Many of the bar pins (worn horizontally) have a two-tone look -- with a white metal top and yellow gold bottom. Monochromatic looks were popular, so diamonds and pearls were used together set in white metal. Other gem materials included amethyst and peridot, the favorite stones of Alexandra and Edward, as well as some sapphire. SOLD - WE HAVE OTHERS
TreasureCoastJewelers.com
Item#c-mgm020614-2
Questions? Just Ask. 772-219-0457
Domestic Shipping Only. Short Term Layaway OK.