ESTATE Art Nouveau era
Breathtakingly Beautiful Antique Filigree
PLATINUM, OPAL and DIAMOND pin/pendant.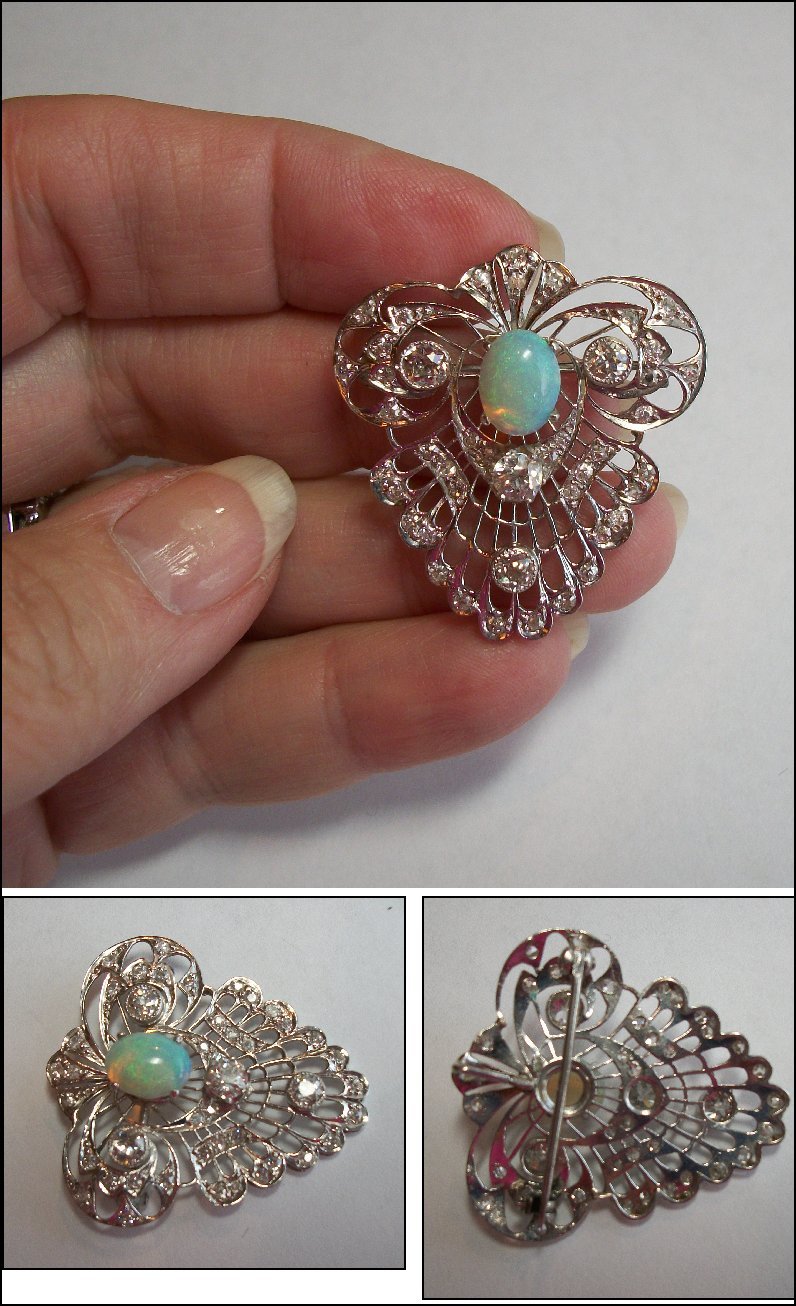 What would it look like with a different gemstone?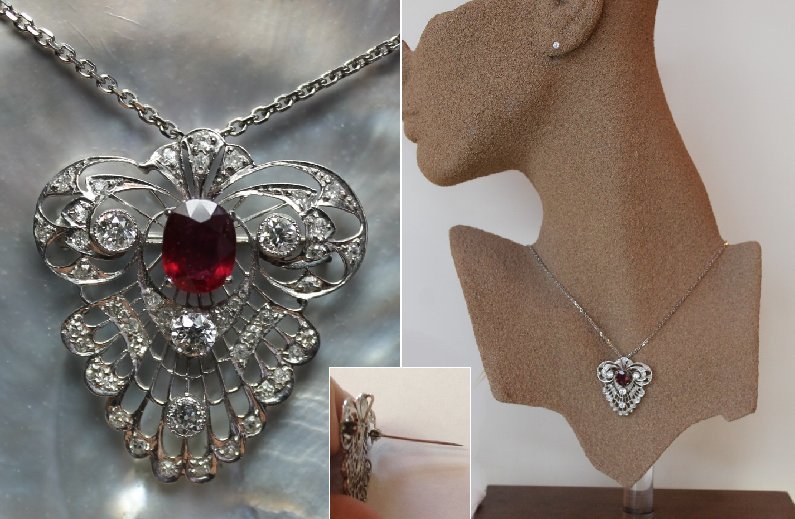 From An Estate On The Treasure Coast of Florida


Art Nouveau era Antique Filigree PLATINUM, DIAMOND and OPAL pendant.
Breathtaking beauty.

This is a stunning Art Nouveau era (1895-1915) Antique Filigree PLATINUM, DIAMOND and OPAL pendant in a perfectly exquisite design which brings to mind a delicate butterfly.
(Note: Chain on which the pendant is displayed is available separately and not a part of this purchase.)

The diamonds are OLD MINE CUT, the four main diamonds are both prong set and bezel set. They have VS2 - SI1 clarity with top white G-H color . Measured as set (between 4.0 and 4.33mm) the four main diamonds have an estimated weight of approx. 1 carat, and are in turn surrounded by an additional .69 carats in diamond melee (smaller, prong set, single cut diamonds) for a combined total diamond weight of approx. 1.69 carats.


The overall measurement of the pendant is 32mm x 35mm and the total weight is 4.85 DWT = 0.2425 Ounces = 7.54175 Grams. A hidden pin is attached to the reverse of the pendant for alternate wear as a brooch if desired.
The center stone, a natural Precious OPAL cabochon is original to the pin/pendant. Precious Opal flashes iridescent colors when it is viewed from different angles, when the stone is moved or when the light source is moved. This phenomenon is known as a "play of color". Precious opal is very rare and is found in a limited number of locations worldwide. Most precious opal has been mined in Australia.
Because this platinum and diamond piece is so unique, but the color of the center stone may not be exactly what you're looking for, we've received a number of inquiries about the possibility of replacing the Opal with a vibrantly colored gemstone. Yes, that can be done. As an example, In place of the Opal we have temporarily mounted an antique faceted oval natural ruby. ) A fine Ceylon Sapphire or Emerald cabochon, or perhaps a faceted oval Tourmaline in any one of a rainbow of colors would be equally enchanting. Do you already have an oval cut family diamond that might be a perfect fit? Yes, that can be done as well.
This sale is for the original piece as shown, set with the Precious Opal which, if preferred, may be exchanged for a Tourmaline at no additional charge.
Item # c-eg-8 SOLD
Layaway is Available.

Any dark spots appearing in photos are camera reflections only.

Inquiries: info@TreasureCoastJewelers.com
772-219-0457
View More: TreasureCoastJewelers.com