ESTATE
Stunning 4.26 Carat Antique Diamond Ring
Old European Cut Diamonds
(Note: White areas on diamond edges are camera flash reflections)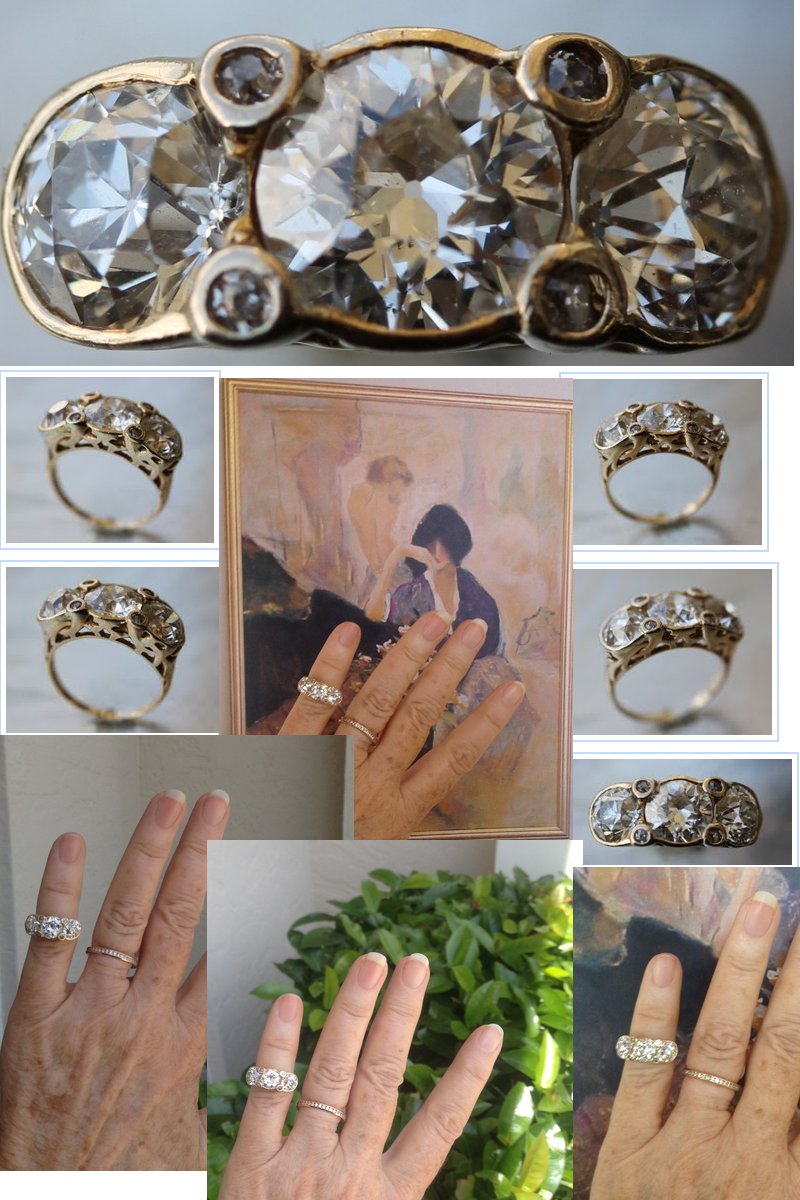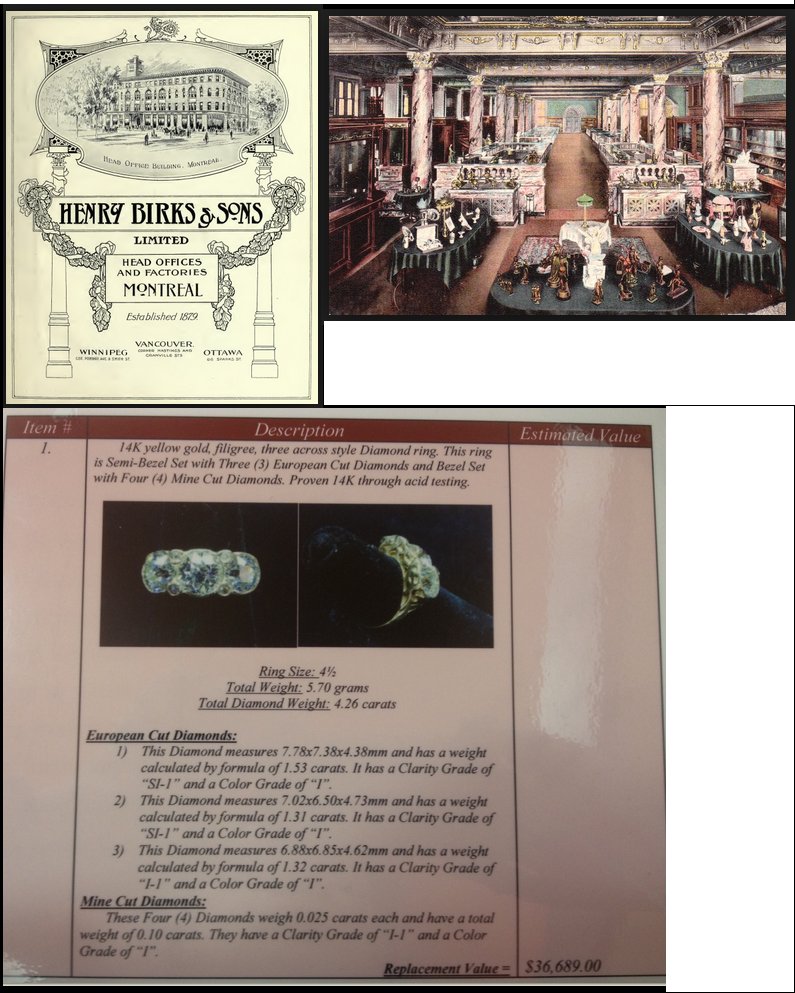 ---
This is an exquisitely made and wildly lavish turn of the century (circa 1890) antique Arts and Crafts era diamond engagement ring, especially created for a pair of young lovers who were then in their 20's. (The average age at marriage in 1890 was 26 for men, 22 for women.) It was custom made by BIRKS luxury jewelers, (founded in 1879), which is the Canadian equivalent of Tiffany's. The prestigious Birks Jewelers was a particular favorite of well to do American visitors to Canada, and of successful young gentlemen who traveled to Canada on business. Birks would accept custom orders and upon completion, would mail the jewelry, such as this stunning engagement ring, to its U.S. purchaser.
The Arts & Crafts Movement (1890-1914) had its roots in a design and philosophy which favored the simplicity of impeccable craftsmanship coupled with appealing artistry. The original intent of the Arts and Crafts Movement was to provide the common man with hand-made items of exceptional design. Ironically, the rising cost of labor made those exquisite designs incredibly expensive and they remained out of reach for all but the upper class.
Very few of the fine pieces from this era survive today, thus, those which remain are highly prized for their beauty as well as for their rarity.
The faint impression of the lovers initials can still be seen inside the shank of this ring. A majority of the jewelers hallmark also remains intact.
The average lifespan during that era was around 40 years of age, so the bride's collection of jewelry would likely have become part of the survivors estate somewhere around 1908 - 1910. The will may have included instructions to sell the jewels and distribute the proceeds of the sale to family members, or it may have been bequeathed to a specific heir who then chose to sell it.
The ring was eventually purchased by Albert H. Moore, an entrepreneur and one of Pennsylvania's early industrialists. Albert married his fiance, Alma, in 1910. He was 26, she was 25. The average per capita income in Pennsylvania in 1910 was $352 per year, or just under $30 per month.

Judging by the fine quality of this engagement ring, however, the business endeavors of this particularly ambitious young man must have been extremely successful.
Pittsburgh, which by 1911, was already producing half the nation's steel, sat in the middle of one of the most productive coalfields in the country; a region which was also rich in petroleum, natural gas, lumber, and farm goods. It was also producing large quantities of iron, brass, tin, and glass products. The area was a complex urban landscape with a dominant central city, surrounded by proximate residential communities, mill towns, satellite cities, and hundreds of mining towns. Moore decided to build his own factory in Greensburg, 26 miles from Pittsburgh proper. The Moore Metal Manufacturing Company, an ornamental fabricator, was founded in 1922 by Albert H. Moore Sr. In 1925 he was joined by a partner, Joseph V. Morford, Sr.
Business was booming everywhere, both in the U.S. as well as in Canada. Jewelry sales in particular were soaring.
"Sixty -Six Years in Business is the Record of Henry Birks," read an article in the Financial Post, dated Dec.7, 1923. "The Montreal store is the largest ground-floor jewelry store in the world. With one exception, it is the largest jewelry store in the world. Tiffany's, of New York, with two merchandising floors, is larger. The firm has one of the largest turnovers of any retail organization in Canada, and sells hundreds of thousands of dollars of goods each year by mail to American citizens and Canadian citizens. It manufactures more of the goods it sells in its store than any other similar organization in the world."
In America, Moore and Morford's factory enjoyed another five extremely good years of business, until the advent of the Great Depression, which began in 1929, and lasted through most of the 1930s. Steel towns proved especially vulnerable, since the wages paid by large steel manufacturers supported not just the steel workers and the merchants with whom they did business, but also paid the property taxes which financed most municipal services. As orders for steel dried up, so did employment in steel producing regions across the Commonwealth.
The resiliant Moore and Morford families not only survived the Great Depression however, they did everything in their power to make certain their company's employees also made it through those rough times as well. The determination paid off. The firm still exists today, and three generations later, it remains a family owned company.
This exquisite ring was passed down through the Moore family heirs before being sold to an extended family member who in turn kept it in a safe deposit box for several years before similarly choosing to sell it.
The ring, (which comes with an updated appraisal performed by a well respected GIA Gemologist)) is now part of our Estate collection.
DESCRIPTION: 14k yellow gold filigree, three across style diamond ring. This ring is semi-bezel set with three (3) Old European Cut diamonds and bezel set with four mine cut diamonds. Proven 14k through acid testing.

Ring Size 4.5 (resizeable up to a size 6.5 by any experienced fine jeweler, without compromising structural or design integrity)
Ring weight: 5.70 grams
THREE Old European Cut Diamonds:
(1) Diamond measures 7.78 x 7.38 x 4.38mm and has a weight calculated by formula of 1.53 carats. It has a clarity grade of SI-1 and a color grade of I.
(2) Diamond measures 7.02 x 6.50 x 4.73mm and has a weight calculated by formula of 1.31 carats. it has a clarity Grade of SI-1 and a color grade of I.
(3) Diamond measures 6.88 x 6.85 x 4.62mm and has a weight calculated by formula of 1.32 carats. It has a Clarity Grade of I-1 and a color grade of I.
FOUR Mine Cut Diamonds: These Four (4) Diamonds weight 0.025 carats each and have a total weight of 0. 10 carats. They have a clarity grade of I-1 and a color grade of I.

TOTAL DIAMOND WEIGHT: 4.26 carats

Appraised at $36,689.00
SOLD

Layaway Is Available - Estate Sales Are Final
Questions? Just ask. Showroom: 772-219-0457
TreasureCoastJewelers.com