Books by
Nancy VanDermark
Mountain Hawk - I Won't Give Up
A Story of Hope
Toward the end of a lovely summer day, with no advance warning, a bright and handsome first grader, 6 year old Peter Castellino, found himself in an ambulance, being rushed to Children's Hospital in Philadelphia. Diagnosed with cancer, acute lymphoblastic leukemia had already spread to 95 percent of Peter's body, including both his brain and spinal cord. The devastating implications of that diagnosis were so terrifying that Peter's parents would just hug each other and start to cry. Whenever that happened, Peter would tell his parents that they shouldn't worry, because he was going to be just fine.
"Mountain Hawk - I Won't Give Up" is the story of a little boy's determination to grow up. It's a true and amazing tale, a story of hope, and, it has a happy ending.
*THE STORY IS ONLINE AND IT'S FREE TO READ RIGHT NOW

*ORDER PRINTED COPIES, FREE FOR DISTRIBUTION TO HOSPITALS, PHYSICIAN'S WAITING ROOMS, ETC.

An Unlikely Scholar
Available at Amazon and other fine booksellers in ebook, paperback and hard cover formats.
https://www.amazon.com/Unlikely-Scholar-Nancy-VanDermark-ebook/dp/B07K3413TT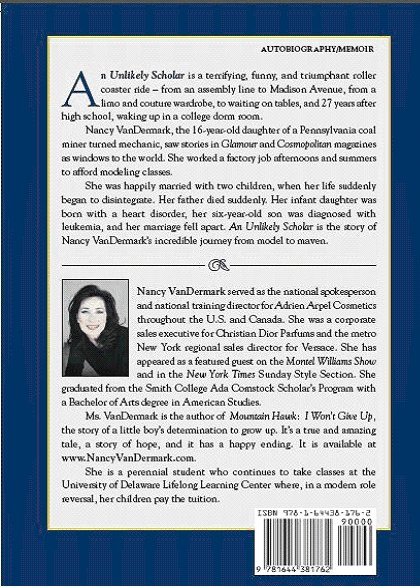 Return to Nancy VanDermark.com