HOME - Review: BOOKS by Nancy VanDerMark
---
---
Mountain Hawk - I Won't Give Up
Copyright (c) 2018 by Nancy VanDermark


No part of this publication may be reproduced, stored in a retrieval system,
or transmitted in any form or by any means - mechanical, photocopy,
recording, or any other - without the prior permission of the author.
ISBN 978-1-63039-104-1
---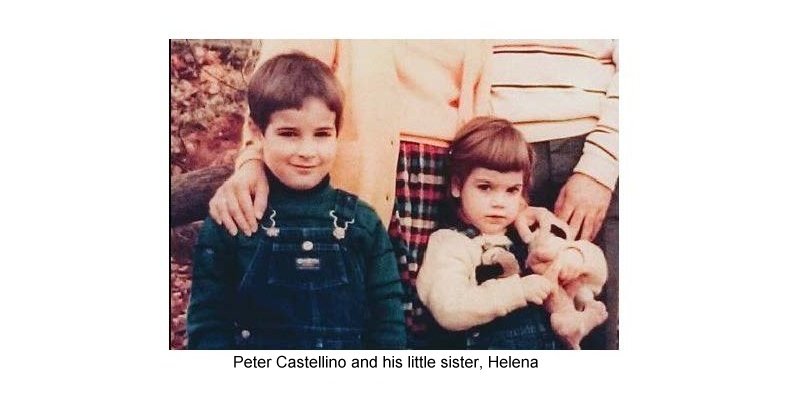 Mountain Hawk - I Won't Give Up

Nancy finished typing a note on her grown-up son Peter's Facebook page and pressed the "post" button. Peter had been in line for a new job and a big promotion and his Mom was one of the first to know. Visit Mom, get hugged. Good stuff.

Nancy was thrilled for him, but she hated it when he had to catch a plane to go back home. She missed his wonderful hugs. She had written, "I adore you Peter Castellino! Thank you for visiting me in Florida" on his page.

Nancy leaned back in her chair and smiled happily at the news of Peter's latest accomplishment. She remembered Peter's favorite saying; "I won't give up." That's the way he's always been, she recalled.

From the time he was a little kid, still in first grade, regardless of how big or how scary the challenge was, Peter would simply make up his mind and go for it.

SCARY NEWS

It was back on June 8, 1988, that Nancy's then 6-year-old son, Peter, was diagnosed with cancer.

Peter was very bright. He had scored in the 95th percentile on standardized testing in first grade at the Apple Tree Academy in Forty Fort, Pennsylvania. His parents were very proud of him.

Peter's family was also totally unprepared for what fate held in store for all of them.

Wednesday, June 8th 1988, was a school day, the last one before summer vacation, and Peter's first grade class was looking forward to their end of year field trip. As a special treat, his class was planning to go to the ice cream parlor.

Nancy drove Peter and his little sister, Helena, to school that morning, and the two of them planned to ride the school bus home when class was over.

Nancy greeted Peter and Helena at the door when they arrived home that afternoon, anxious to hear about the fun, but Peter was unusually quiet. When his Mom asked about the field trip to the ice cream parlor, he told her that his legs had hurt on the walk.

Nancy frowned and searched her memory but she couldn't remember anything that might have hurt Peter's legs. He had no scrapes or bumps or bruises anywhere. Now on alert, she made a mental note to keep a close eye on Peter's legs.

The family was planning on going to dinner at Grandma's house that night. Nancy and the two children would drive to Grandma's in Nancy's car and Dad would drive his own car straight from work to meet them there.

Grandma had prepared a wonderful Italian dinner, but Peter hadn't eaten any of it, not even his favorite dessert. Nancy felt Peter's forehead and frowned. He didn't seem to have a temperature.

Afterwards, they all thanked Grandma for a wonderful dinner and prepared to head for home. Peter asked if he could ride with his Mom and his sister, Helena, decided she wanted to ride in her Dad's car.

As Peter pulled the seatbelt across his neck, he cried out, "Ouch, that hurt!" Nancy reached over and felt his neck. The glands just below his ears were swollen, and she told him that she would telephone their pediatrician as soon as they got home. Peter and his family liked Dr. Landau a lot, and Dr. Landau's own little girl was one of Peter's first grade classmates.

The doctor listened to Nancy when she called, and thoughtfully considered what she had told him. It might be mono, the doctor thought, in which case Nancy could bring Peter to the office in the morning, but Nancy had a feeling that wasn't it, so Dr. Landau instructed her to bring Peter to Nesbitt Hospital emergency room right away, and told her he'd meet them there.

Peter's parents decided that Peter's Dad, Frank, would stay home with 4 year old Helena while Nancy took Peter to see the doctor. They thought the doctor would probably prescribe an antibiotic for Peter and then the two of them would be able to come right back home.

As they drove, Peter looked over at his Mom and quietly said, "Mom, you are the best mother God ever made." All of a sudden Nancy felt very afraid. She reached over and gently stroked his head. "I love you, Peter" she told him.

At the hospital, Dr. Landau carefully examined Peter, and the doctor shut his eyes for a moment before he turned and said, "Mrs. Castellino, I don't even know how to tell you this. Peter is a very sick young man. I'm calling in a pediatric oncologist."

"What?" Nancy asked herself. "What?"

Nancy didn't know what to think. What the doctor had just said didn't make sense to her.

Nancy telephoned her husband and told him to come right away. He quickly arranged for their next door neighbor, who was Nancy's best friend, to take care of Helena. Peter's parents and Dr. Landau wanted Peter to be seen by specialists at the very best hospital, so they quickly arranged for him to be transferred by ambulance to Children's Hospital of Philadelphia, which was two hours away. Nancy and a private duty nurse had ridden in the ambulance with him. Peter's Dad and his Dad's brother, Uncle Joe, had followed the ambulance in the car.

The doctors at Children's Hospital of Philadelphia informed Peter's parents that the diagnosis was acute lymphoblastic leukemia. They explained that this was a type of cancer where the bone marrow makes too many immature white blood cells and that while the average child has between 5,000 and 10,000 white blood cells, Peter's blood test showed that he had a white blood cell count of 395,000, and the count was doubling every twelve hours. The doctors said that was the third highest white count ever diagnosed at Children's Hospital of Philadelphia.



The updates got scarier; the doctors told them that the leukemia had already spread through 95 percent of Peter's body, including both his brain and spinal cord.

Nancy asked the doctors to promise her that her little boy would be OK. "We can't promise you anything," they told her, "except that we'll all do our very best."

EVEN SCARIER NEWS

Dr. Jean Belasco, a pediatric oncologist, carefully explained to Peter's parents the risks and benefits of the program that would be followed.

She informed them that he would be receiving an intensive treatment protocol developed in Germany that prescribed a very large amount of intravenous chemotherapy to be delivered in a very short amount of time.

The next 72 hours would be very important, she told them, but without following that protocol, she cautioned, the outcome for Nancy's little boy did not look very good.

WE CAN DO THIS

Peter's parents decided they wanted the doctors to do whatever was needed to make their little boy well again.

Massive doses of chemotherapy were begun immediately and Peter was admitted to the Intensive Care Unit. Nancy sat next to Peter's bed in the ICU for three days without once leaving the hospital. She was guarding her little boy like a hawk.

Peter responded to the chemotherapy as everyone had hoped and the cancer went into remission immediately. For once this was a VERY good sign!

On the morning of just the fourth day, Peter was moved out of intensive care and into a semi-private room where another child was a patient in the adjacent bed. She was a beautiful little three-year-old girl, who was being treated for neuroblastoma, a type of cancer that forms in nerve tissue. The little girl's mother, a member of the Muslim faith, knew exactly how Nancy was feeling. She walked over, put her arms around Nancy, and offered a prayer of comfort from the Quran. Nancy was very grateful for that simple gesture of kindness.

RACKING UP THE MILES

Peter's Dad was doing a lot of driving. The hospital that Peter was in was located two hours away from the family's home. His Dad would drive to work, and at the end of the work day he'd drive home to spend some time with Helena. Then he'd drive all the way to the hospital to spend time with Peter and Nancy, and afterwards he'd have to drive all the way back home again.

Sometimes Peter's parents were so exhausted and so scared that they'd just hug each other and start to cry. Whenever that happened, Peter told his parents that they shouldn't worry, because he was going to be just fine. He was so brave!

The oncology nurses told Nancy that if Peter continued to respond well to the treatment, his family would be allowed to move into the Ronald McDonald House on Chestnut Street.

After spending nearly two weeks as an inpatient, Peter was discharged from Children's Hospital of Philadelphia. He no longer had to spend each night in the hospital. He could just come in during the day, have the chemotherapy treatment and then leave afterwards.

Having a place to live nearby would make it easier for Peter and his Mom to return daily for Peter's outpatient intravenous chemotherapy. Since the family could now check into the Ronald McDonald House, that also meant that Peter's Dad would be able to bring Helena with him to Philadelphia. It would be a big relief for Peter's family to finally be together again, and Peter's Dad now wouldn't have to drive so much.

Nancy found the staff at the Ronald McDonald House to be incredibly nice. They went out of their way to make sure Peter's family was comfortable and had everything they needed. The family was assigned a large suite of rooms on the third floor, which even had its own private bathroom. They also gave the family a tour of the sparkling clean commercial kitchen and invited them to prepare their favorite meals whenever they felt like it.

Since there were other families staying at the Ronald McDonald house, Peter's family wouldn't be lonely during their stay.

At the beginning of August, in the sweltering city heat, Peter began radiation treatments at the University of Pennsylvania Hospital. Ninety-five percent of Peter's body was cancerous, including his brain and spinal cord, so first, he would need to be permanently tattooed on his head and lower back, targeting areas where the radiation would be focused.

Next, Peter's family was introduced to the radiologist and his team who explained to Nancy that Peter would receive the highest possible level of radiation. Once again, the doctors carefully explained the risks and benefits to Peter's parents.

The radiologist was great with Peter. "Now, Peter," he said, "I want you to understand that every Friday is Hawaiian shirt day here, so I'm ordering you to get a sharp looking shirt!" So that's exactly what Peter's parents got for him.

The next day Peter began his radiation treatments.

I CAN DO THIS

Endless days and nights were spent at the Philadelphia Ronald McDonald House, where Peter watched videos of the "Rocky" movies and developed the attitude that he, too, would fight his way to victory.

.
Peter's little sister, Helena, was a fiercely loyal supporter of her big brother. Once they brought her to Children's Hospital, she never left his side.
Peter's cancer experience opened his little sister Helena's heart to the devastating effects of pediatric cancer and she has never given up hope for a cure. It also moved her to help others, and she started doing so as a young child. Her heart is as big as an ocean.
During the years that Peter was receiving chemotherapy, Helena let her hair grow really long, twice, then cut it very, very short and donated the hair to Locks of Love. The organization provides hairpieces to financially disadvantaged children under the age of 21 who are experiencing long-term medical hair loss from any diagnosis.


She also registered with the National Bone Marrow Registry, a non-profit organization dedicated to creating an opportunity for all patients to receive the bone marrow or umbilical cord blood transplant they need, when they need it.
Helena was contacted twice as a possible match for a patient who needs a bone marrow transplant.
One day the owner of the company Nancy worked for flew into town and personally led the morning pep talk. Afterwards, the boss presented each of his employees with a book about the potential to dramatically alter reality by changing the way we think about things.
Nancy carefully considered the idea. Thinking good thoughts never hurt anybody, so she studied the concept carefully. Then she discussed the idea with Peter, who was open-minded about creative visualization. A spirit of optimism began to fill their home and the family began to dream again. They were planning, dreaming and living as if tomorrow really did exist. The change in attitude was good for all of them.
The radiation treatments had made Peter's hair fall out, so on his first day back to Apple Tree, Peter put on one of his Little League baseball caps to cover his bald head and walked into the school, excited to be back with his friends. The teacher told Nancy that Peter had only worn the baseball cap for a little while before removing it and announcing to the class that he was going to be the next president of the Hair Club for Men!


When Peter was about 8 years old, and at his most bald, he was featured on a local NBC affiliate TV as a "Hometown Hero." Hundreds of Valley residents sent him baseball caps to keep his head warm in cold weather, and cool in the sunshine.
FOOTBALL FAN
Through a long, but rewarding period which included six years of chemotherapy, with his family by his side for every single treatment, Peter dreamed of playing football while still keeping active with Little League, Teener baseball, and basketball.
By the time Peter entered high school, the treatments had finally concluded.
During that time he supported the Wyoming Area High School football team, the Warriors, as a spectator and fan, never giving up hope of one day becoming a Warrior.
At each anxious visit to Children's Hospital, Peter always asked the same question, "Dr. Belasco, could I join the football team now?" Her answer was always the same, "Your bones are still quite brittle from the chemo, Pete. Hang in there and we'll see what next year brings."
JOINING THE FOOTBALL TEAM
Peter completed six years of chemotherapy and, although he would not be declared "cured" until he was five years away from his last treatment, his health continued to improve. He was a member of the National Honor Society and still pleaded with Dr. Belasco for permission to join the high school football team.
In the spring of 1998, as he entered his final year of high school, Peter was finally given permission to join the football team for the upcoming fall season. "If you want to have your body pummeled," Dr. Belasco cautioned the unusually light 115-pound teenager, "by all means, go ahead."
As Peter entered his senior year in high school, his younger sister Helena, just two years behind him, was beginning her sophomore year. Helena was already involved with a serious dance company and she remained focused on a creative path, with her mind set on becoming an actress.
OUCH
The Warriors football team had remained pretty much undefeated while Peter was in high school, but for Peter, playing football was never about the glory. Instead, to Peter, playing football was about proving to himself that he could overcome a challenge at his size. As a senior in high school, Peter weighed only 115 pounds. He was the smallest kid on the team and in his own words "I wasn't good, but I tried, hard."


Peter joined the football team, as a Warrior, in 1998, his senior year.
Peter worked out every day with the team. He was in the best shape of his life but as he later confessed to Nancy, "I still got my clock cleaned every day."
The team began practicing in June and, by August, before the season had even started, Peter's wrist had been broken in a tackle.
As a wide receiver, to have a cast on his arm and hand made it even more difficult, but he still went out there every day, in temperatures often close to 100 degrees, and ran drills with the rest of the team. He simply did it while wearing a cast, and gave it his best.
WE'RE NUMBER ONE!
Within six weeks, Peter's fractured wrist healed perfectly and the Warriors were rated the No. 1 high school football team in northeastern Pennsylvania.
Every weekend, Peter's mother Nancy followed the Warriors from one small town to another, hoping to see a dream unfold. Week after week, Peter sat on the bench, waiting patiently for his name to be called by the coaches.
PETER, YOU'RE IN!
"Rudy" Ruettiger (b.1948) was a 5 ft 6 inch kid who weighed in at 165 lbs. Rudy had been told that he would probably never be able to get into the college of his choice, and that even if he did manage to do so, he would still be too small to play college football. Nevertheless, he was determined to do the best he could with the hand he was dealt. His early life and career at the University of Notre Dame is what inspired the still popular 1993 biographical sports film "Rudy."
At 5'5" tall and weighing only 115 pounds, Peter was the smallest guy on the Warriors team. He never got to play in real games. The team knew that and so did the fans. In one of the last games of the season, on a frosty November night, with the Wyoming Area team ahead 48-0 and mere seconds remaining in the fourth quarter, the coach called Peter's name and sent him into the game. It was a movie moment, straight out of "Rudy" when the crowd started chanting, because like Rudy, Peter had also been one of the smallest guys on the team but he gave it his all. The clock ran out and the game was over in the blink of an eye.
After the game Nancy was pacing back and forth outside the field house, as she waited to drive Peter home.
She was so worried. His time on the field had been so short and she doubted that he'd ever get another chance. Nancy was terribly afraid that Peter might be upset and sad.
I WON'T GIVE UP
When Peter got in the car he wasn't worried about it in the least. "I'll get on the field someday, Mom," he said cheerfully.
"I won't give up," he reassured her.
Over a decade had passed since the dreadful diagnosis. Peter had fought hard and he had won a lengthy battle against cancer. Nancy should not have been surprised by Peter's reaction. He'd always maintained a positive attitude.
The Warriors progressed to the playoffs where Peter, still a full-fledged member of the team, faithfully attended practice, ran drills with the rest of the players, and continued to keep the bench warm.
Peter was featured in the local newspaper. You'd frequently see his photo or see his name mentioned in various articles.
NOT JUST FOOTBALL
In the winter of 1998, Peter had decided that he wanted to run the San Diego Rock-n-Roll Marathon to try to raise money for the Leukemia and Lymphoma Society.
Nancy suggested that they speak with his doctors at Children's Hospital of Philadelphia, before he became too involved, but he was determined. Peter reassured his mother that, if they had a chance to raise the money as a result of his efforts, he would be careful not to stress his body, even if it meant that he had to finish the marathon by walking the remainder of the twenty-six plus miles.
In June 1998, cancer survivor Peter Castellino ran the San Diego Rock-n-Roll Marathon, with a time of 5 hours, 29 minutes. His participation raised $5,000 in support of the Leukemia and Lymphoma Society.
Off the field, Peter was elected president of his senior class. He was a member of the National Honor Society, and he gave the class of 1999 graduation speech. Peter's speech was based on his favorite quote by Thoreau: "If you have built castles in the air, your work need not be lost; that is where they should be. Now put the foundations under them."
A front page story in The Sunday Pittston Dispatch was entitled "Wyoming Area's Greatest Success Story Takes a Bow." The story was accompanied by a photo of Peter in his cap and gown when he graduated from high school in 1999. The article chronicled his battle with leukemia.
OFF TO COLLEGE
Peter began his freshman year at Lehigh University in 1999. When he arrived on campus he needed a work-study job, so he went to the campus office and inquired as to what work-study opportunities might be available. After being given a printed list of current jobs, he skimmed through it and the word "mascot" caught his eye. Actually it stuck out! "This is something I can do and actually get paid for it?" Peter thought to himself.


There's always fierce competition for team mascot positions, and trying out for a football team mascot is a lot like trying out for the actual team. Mascots must be athletes. Being energetic for multiple hours is intense. Not only was Peter an athlete, he could also be energetic for multiple hours.
Peter called Nancy to say that he had just auditioned to become the football team's official mascot; a Mountain Hawk. Laughing heartily, Nancy told Peter that was a terrific idea, and she wished her son luck.
Three days later, Peter telephoned his Mom to let her know that he had won the part. He was going to be on the field, dressed like a big, brown bird. "Actually," he told his Mom, "At 5' 5", I'm going to be dressed like a short brown bird."


Peter got to go to football games, he traveled in a small bus with the co-ed cheerleading team, and, he entertained at football games, basketball games and wrestling matches. He had an absolute blast. And even got paid for doing it!
On October 23, 1999, the Lehigh University football team, ranked No. 1 in the Patriot League, set out to battle the league rival, Holy Cross. Nancy and Helena shuffled through the capacity crowd as they headed for their seats on the 40-yard line to watch the game.
On that warm October afternoon, as Lehigh "annihilated" Holy Cross, Peter, the costumed Mountain Hawk soared. His wings were spread, and he was leading fans into the wave.
Peter never gives up, Nancy thought happily. He's going to be on the football field for the entire game!
Swaying from side to side as fans performed the wave and cheered the team on for one more touchdown, Nancy and Helena's revelry was briefly interrupted when one of the fans sitting near them asked,
"What number is your son?"
Nancy and Helena glanced at each other, and laughing with delight, together they shouted,

---
PETER TODAY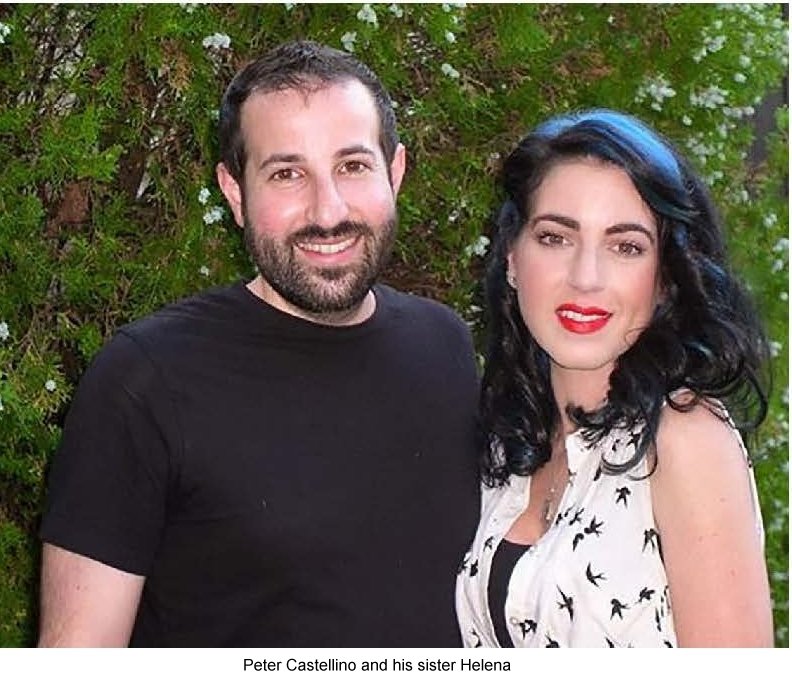 Peter graduated from Lehigh University College of Business and Economics in 2003 with a Bachelor's Degree in Marketing.
In December of 2016 he accepted the position of Global Marketing Manager for Promethean, a company which develops interactive technologies for education.
---
ABOUT THE AUTHOR
Peter's mother, Nancy VanDermark, served as the national spokesperson and national training director for Adrien Arpel Cosmetics throughout the U.S. and Canada. She was a corporate sales executive and national make-up artist for Christian Dior Parfums, and the metro New York regional sales director for Versace, successfully launching Gianni Versace's make-up line in Bergdorf Goodman and Neiman Marcus. Ms. VanDermark has appeared as a featured guest on the Montel Williams Show and in the New York Times Sunday Style Section. She graduated from the Smith College Ada Comstock Scholar's Program with a Bachelor of Arts degree in American Studies. Ms. VanDermark has combined a passion for women's history with her professional background and is currently writing a memoir on the power of education to genuinely, permanently and radically transform a woman's life.
---
Books by author Nancy VanDermark
Mountain Hawk - I Won't Give Up
---
Editing by C.K.Gurin - TheQuantumCat.com
---