FAST-TRACK LOCAL TEAMWORK - SEE - SHOW - SELL - BUILD - DELIVER .

Attention:
INNOVATIVE, QUALITY ORIENTED, COMPUTERIZED FURNITURE & FIXTURE MANUFACTURERS
and
AGGRESSIVE, COMPUTER-SAVVY MANUFACTURERS REP ORGANIZATIONS
WHO WE ARE:
We are The Summerland Group. Summerland is an engineering company.

WHAT WE DO:
Among other things....
we
Design superior computer furniture.
we
Design and manufacture superior lift mechanisms.
we
Use those lift mechanisms in our computer furniture (and in other products).

YOU'RE PROBABLY ALREADY FAMILIAR WITH US:
Our remarkable computer armoire, The OFFICE™
was awarded International Grand Prize at NeoCon in 1996.
It was a FORTUNE Product To Watch.
It was also featured on the NBC TODAY Show. (and in a lot of other places).
It is hailed as the highest quality, best-engineered computer armoire in the world.
We're pretty proud of it.

Electro-entopic Satellite OffiCenter

...

even the chair closes up inside
IS THIS ABOUT The OFFICE™
No.
This is about our newest product introduction

IS THIS NEW PRODUCT IMPORTANT TO
OFFICE and SCHOOL FURNITURE DEALERS & MANUFACTURERS?
VERY.
WHY?
The Learning Station™ is exactly what your customers need.
WHAT MAKES YOU THINK SO?
We don't think so, we KNOW so.
Because we do our homework.
SO WHAT'S SO SPECIAL ABOUT The Learning Station ?
Click here, and we'll show you.
Go ahead. We'll wait.

It is the one product which does exactly what your customers need it to do.
It's compact.
It requires less of that valuable floor space.
It's convertible.
It does double-duty.
It's a height-adjustable desk.


And then....with just the touch of a switch....



It becomes a height-adjustable computer workstation.



Adjust monitor viewing height.
Adjust keyboard height.

It's handicapped accessible.



It's leg room adjustable.



It can work as a stand-alone.
It's also designed to work in a networked classroom environment.

It can be used with a full size PC.
It can be used with a laptop.
It's lockable.

It also compliments these and many other manufacturers existing product lines.

| | |
| --- | --- |
| | |
The Learning Station automatically adjusts to fit any size adult.

It adjusts to fit growing kids from 5th grade through college.



It also has a companion model that adjusts to fit school children
from Kindergarten through 4th grade.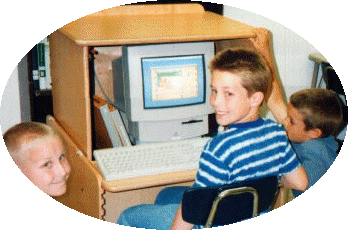 Computer furniture for classrooms
from kindergarten through college, is a very large market.
Some applications require desks with below-desk monitor placement.
So we created a height-adjustable convertible model
which also permits adjustment of monitor viewing angle.
(It's another first.)



The Learning Station is a multi-use product
whose core converts to a multitude of other products.

For example, the desk converts to a height adjustable lectern.
And back.



(That stepstool next to the podium is about to become a thing of the past.)

Did we mention it also seats two for dinner?.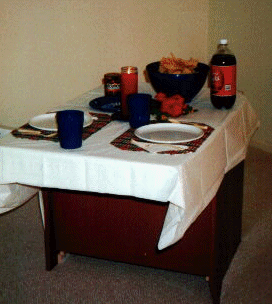 That's because dorms and studios and hotel rooms
are occasionally short on space,
and pizza comes in a big box.

Home Office? Executive Office?
There's no limit to design options.
Feeling Creative?

Antique style pigenhole accents can be used to add interest
and expand utility of the sliding desktop.



And file cabinet pedestals will extend utility and enhance decor.
| | |
| --- | --- |
| | |
The quiet, 4-point Summerlift mechanism,
with which The Learning Station is equipped,



(it's another of our patented products)

also offers interesting opportunities
for media equipped conference tables.

and a wide variety of media cabinetry


Which is actually part of The Learning Station's core design.
There are also drop-in components for panel systems (and more)

AND WHO ARE THE CUSTOMERS FOR The Learning Station?
Everyone.
It can be sold to schools.
It can be sold to universities.
It can be sold to telecommuting directors.
It can be sold to the military.
It can be sold for dorm use.
It can be sold for alternative officing.
It can be sold for home use.
It can be sold for hospitality use.
It can be sold for retail use.
It can be sold for government use.
It can be sold for training purposes.
It can be sold for corporate use.

It opens additional marketing avenues.
It reaches beyond the local market to offer global appeal.
The compact size makes delivery easy.
It fits in even tiny European elevators.
It is superb quality.
It neatly solves the customer's problem.
It is within the customer's budget.

We have other products of course.
Our Manager line, for example,
runs circles around Herman Miller's Puzzle.
And it costs less.
NO PUZZLE HERE.

ONLY PIECES

TO SOLVE THEM.
OK, WELL.... THAT'S PRETTY INTERESTING, ALL RIGHT.
SO WHAT DO YOU WANT US TO DO?
Summerland plans to sell even MORE of its products.
(These and the ones that follow).
Licensed local manufacture and marketing
permits us to get our products to the customer quickly and reliably.
It also provides sales personnel and designers with
a local factory resource for your matching furniture/fixtures.

We also have some very unique, very valuable products
that dovetail with The Learning Station.
Once again, we're the only ones who have them.
We're specialists in common-sense engineering and innovative product design.

Summerland focuses on big picture solutions.
If you are a manufacturer, your factory is automated, your product quality is exceptional, your reputation is impeccable
and you understand exactly what kind of potential you're looking at
Contact us.

If you are a retailer or a manufacturers rep:
Determine which computerized manufacturer in your area holds the very best reputation for quality, reliability, and stability.
Tell that manufacturer what your company's sales potential is,
then ask them to apply to join our team of Licensed Local Manufacturers.

Which national office furniture manufacturer delivers to you on time, every time,
and stands behind its' products?
Explain to them that you'd like to see Summerland's patented products offered as
a perfect match to certain of their lines,
Tell them which of your customers will be particularly interested (and why).
Suggest they inquire about licensing our products
to provide the solution your customer needs.
AND WHAT WILL THIS ACCOMPLISH FOR ME AS A DEALER or a MANUFACTURER?
We'll show you (and the factory)
how to make sales AND stock soar right off the charts.
And we're not kidding.

INNOVATIVE, QUALITY ORIENTED, COMPUTERIZED FURNITURE & FIXTURE MANUFACTURERS
OFFICE FURNITURE, SCHOOL FURNITURE FACTORIES:
JOIN OUR TEAM AS A MANUFACTURING LICENSEE

WE HAVE WHAT YOU NEED!
The Learning Station is the perfect SOLUTION
NETWORK READY
FOR SCHOOLS, UNIVERSITIES, CORPORATE TRAINING FACILITIES, CALL CENTERS
FAST-TRACK LOCAL TEAMWORK - SEE - SHOW - SELL - BUILD - DELIVER .

AGGRESSIVE, COMPUTER SAVVY MANUFACTURERS REP ORGANIZATIONS
ASK TO BE TEAMED UP WITH The OFFICE MANUFACTURING LICENSEE
LOCAL TO YOU

WE HAVE WHAT YOU NEED!

TEAMWORK@THE-OFFICE.COM



The OFFICE™ - CEO Model -Awarded INTERNATIONAL GRAND PRIZE
NeoCon - The World's Trade Fair for Interior Design, Facilities Management & Communications
INDEX
ALL SUMMERLAND PRODUCTS AND MODELS
DISPLAYED ON THE-OFFICE.COM AND RELATED WEB SITES
(The OFFICE, Learning Station, Summerlift, POP-UP TV, etc.)
are patented and patent-pending products of The Summerland Group