ESTATE
Love The Cognac Color? So Do We!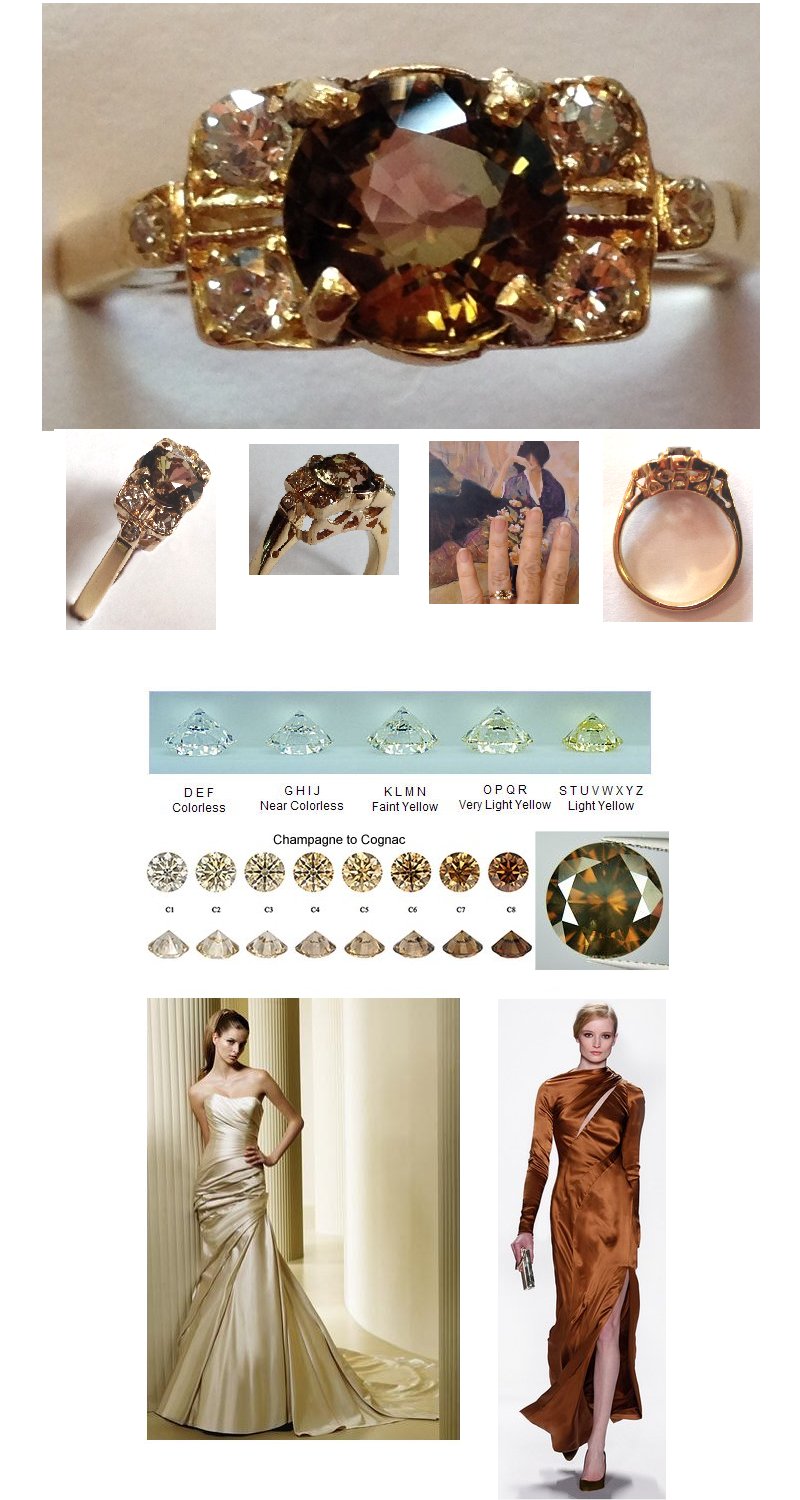 From An Estate On The Treasure Coast of Florida
VICTORIAN ROMANCE
There's just something about this lovely antique ring that we find absolutely enchanting.
The finely made antique gold mounting acid tests ever so slightly less than 18k yellow gold which was typical for the period, so we'll call it 16k. The natural DIAMONDS which frame the center stone are VS-SI clarity with top white G-H color. (See Diamond Color Chart displayed above)
The center stone has been tested on the GEM Refractometer and identified as a very fine natural VVS Cognac Tourmaline, which, particularly in this absolutely mesmerizing mounting, has an appearance which is virtually indistinguishable from a Cognac diamond (See Diamond Color Chart displayed above).
Measured and graded as set, the center gemstone weighs approximately 1.30 carats (7.1 x 4.7mm) , the natural diamonds (4 @ .06ct ea., 2 @ .01ct ea.) weigh .26ct for a combined total of 1.56 carats of precious and semi-precious gemstones. The ring is currently a size 8, and it is resizeable, either up or down. It weighs 4.5 grams.

A Cognac diamond of comparable size and quality would cost approximately $4500 wholesale.
A truly exquisite right hand ring, we also think it would be a superb choice for a drop dead gorgeous, one of a kind engagement ring. (Yes, we can recommend a fabulous master jeweler who can custom design and create a matching wedding band if desired!)
THE ERA OF THIS RING:
VICTORIAN: 1837 - early 1900's. The Victorian era began in 1837 when the young Victoria ascended the throne of England. The Victorian era lasted for another 64 years, until the dowager Queen's death in 1901. When described, the Victorian era is generally categorized into three periods: the Romantic (or Early Victorian) Period (1837-1860), the Grand (or mid-Victorian) Period (1860-1888) and the Late Victorian Period (1888-1901). The early years of the Victorian era were described as romantic or sentimental and reflected the youth, courtship and marriage of young queen Victoria. During the Late Victorian or Aesthetic period, jewelers used diamonds and feminine, bright gemstones. This ring is not stamped. It has been acid tested to determine gold content. It was not until 1906 that regulations concerning the "hallmarking" of items of jewelry were issued in the USA. Over the years, if a ring required resizing, original hallmarking and purity stamps often lost their visibility.
TOURMALINE
Tourmaline, which ranks an appealing 7 on the Mohs (1-10) scale of hardness, was found in Brazil in the 1500's but not properly identified until the 1700's when it was discovered on the Isle of Elba (the third largest island in Italy, and where the Emperor Napoleon was exiled.) The western world was introduced to Tourmaline gemstones in 1703 when Dutch traders began importing large quantities of them from Ceylon (now known as Sri Lanka). Tourmaline's use as a decorative stone may actually be traced back as far as 27BC to 395 AD. Its unusual coloration, as well as its attractive crystal matrix configuration made it a prized collectors item. In 1780 the Archduchess Marie Ann of Austria presented a sizeableTourmaline specimen to the Duke Charles of Lorraine for his collection. Gem quality stones were discovered in the early 1800's near Paris, Maine in America, and according to the Museum of Natural History, in 1876 a Tourmaline specimen was presented to Tiffany's preeminent gemologist Dr. George Kuntz, who was promptly smitten with the beautiful gemstone and showed it to Charles Tiffany, urging him to include it in his unique and coveted luxury jewelry designs.


Treasure Coast Jewelers - Stuart, FL 34994
Questions? Just Ask. 772-219-0457
Domestic Shipping Only. Short Term Layaway OK.